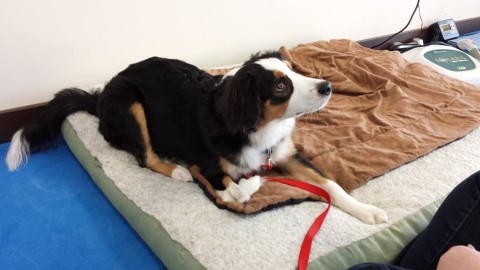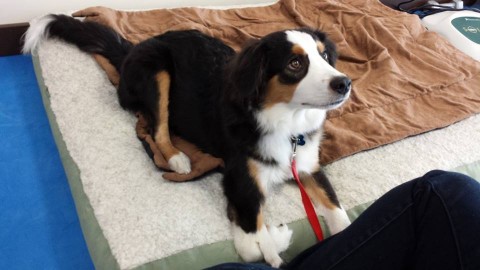 Maverick went for his pre-surgical physical therapy today! OMD, we are getting sooooo close now, just a week away! It's crazy to think how this little guy has changed over the past three months, from a little ball of fluff to a sleek young adult. Of course, his energy level, if anything, has only grown exponentially.
Well, that crazy Aussie energy got little Mav into trouble when he injured his back right leg last week. Keeping him on bed rest has not been easy, actually close to impossible. I'm definitely not looking forward to his post-op rest and am hoping his pain medication will keep him drowsy for at least a couple days.
Good news is I think I'm finally getting the hang of this whole picture upload thing so be prepared for more pictures 🙂 I put a couple pictures up of Maverick at his session today. He found his favorite spot right away and he was perfectly satisfied to stay there for his cold laser therapy. Of course, treats may have had a factor in that too (p.s. that face is the 'what do I have to do for that cookie?' look).
We're trying our best to stay busy and not over think Monday's surgery. The more I focus on it, the more worried I get so its best not to even go there. We got our Ruffwear Webmaster Harness and sling courtesy of Hallie and Libby (thanks so much again!) so we're all prepared for the big day now. So, anyone have some Xanex we can use… Okay, okay, we'll stick with the chocolate and try to lay off the extra caffeine.